The Foundation partners with a selected educational institution by donating funds for bursaries and/or awards.
La Fondation sélectionne un établissement d'enseignement et fait un don pour fins de bourse et/ou de prix.
Award 2019
From left to right - Hani Farag, F&W Foundation President; Adam MacDonald, Bachelor of Science, Honours in Biology with great distinction, recipient of the 2019 Berti Farag Science Award; Laila Farag, F&W Foundation V.P.; Jennifer Gold, CFA, Associate Director, Planned Giving, Concordia University.
Testimony
Bursaries 2017, 2018, 2019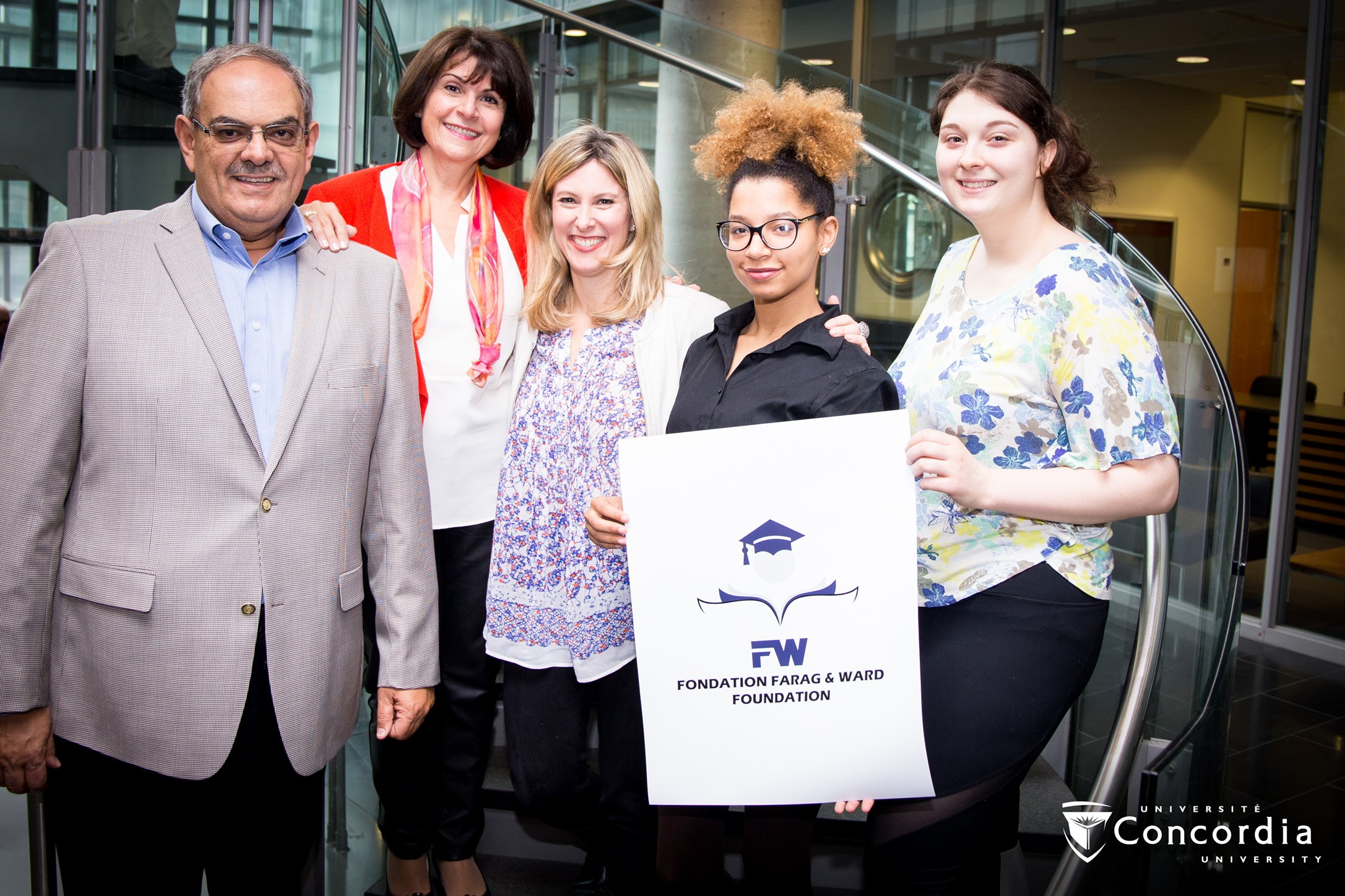 From left to right - Hani Farag (President, F&W Foundation); Laïla Farag (VP, F&W Foundation); Jennifer Gold, CFA, Associate Director, Planned Giving, Concordia University; Ranee-Inez Henegan-Comeau ( Bursary Winner for Film Animation); Isis Gobeil (Bursary Winner for Teaching English as a Second Language)
Award 2018
From left to right - Laïla Farag (VP, F&W Foundation); Yitzchok Leib Ahisar (Bachelor of Science, Honours in Cell Molecular Biology with great distinction and the Berti Farag Science Award 2018 recipient); Jennifer Gold, CFA, Associate Director, Planned Giving, Concordia University; Hani Farag (President, F&W Foundation)
Testimony
---
From left to right - Dr. Michael Sacher (Yitzchok's honours thesis supervisor); Yitzchok Leib Ahisar (Bachelor of Science, Honours in Cell Molecular Biology with great distinction and the Berti Farag Science Award 2018 recipient), Ian Ferguson, PhD, BIOL 409 Coordinator, Department of Biology, Faculty of Arts and Science, Concordia University; Dr. Selvadurai Dayanandan, interim chair, Department of Biology